NEW COVER PAGE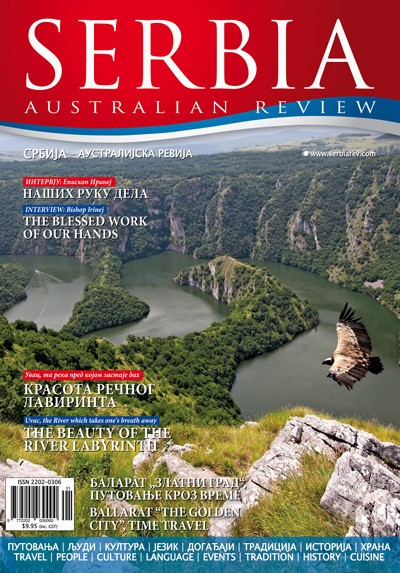 Cover image: "Molitva Summit", Photo by Dragan Bosnić
CONTENTS
EDITOR'S LETTER
EDITOR'S LETTER
Serbs on the Fifth Continent
Saša Janković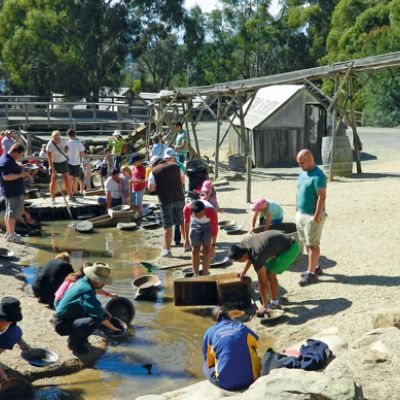 It is believed that the Serbs first set foot on the Fifth continent in the late 19th century. That was in 1901 at the time of the first Australian census, the state of Victoria officially registered four men originally from Serbia. They were gold miners who sought their fortune in the area of today's Ballarat, which was the centre of the "Australian gold rush", then. The number of Serbian immigrants increased rapidly in the first few decades of the 20th century, and today it has reached more than 100,000 people with Serbian ancestry. Already in 1936 Australian Serbs had their first newspaper, "Napredak" whose first issue was published in Sydney. The desire to read and write in their mother tongue has persisted with their descendants and new immigrants to this day.
And we are now, nearly eight decades later, on a similar journey. Another pioneering undertaking is ahead of us. Besides wishing to speak to you in your and our ancestors' language, we wish to show everyone, and also ourselves the best we have. And not only in Serbia, but also across Australia, starting with our best representatives, here and there, to some of the most unusual places and breathtaking landscapes.
Serbia - Australian Review brings a lot that is new and beautiful, but our review is not a new brand. We are the
licensed edition of Serbia – National Review with some special and new solutions for Australia. First of all, the luxury magazine, which is in front of you, is the first bilingual edition in the Serbian Diaspora. As such the magazine wants to reach out to all of those who remain faithful to their native, Serbian language, and to those who read and write in English. All the readers of this bilingual edition are brought together by their love for Serbia and their common origin. Beside its bilingual dimension, our magazine has its digital edition. Thus we wanted to raise the consciousness of our younger generation about their origin and get closer to them. We want to show everyone that Serbia is a beautiful country and that no one can represent it better than ourselves. In this sense, we are expecting your support.
We invite you to enjoy our stories from Serbia and Australia every month. We will discover for you all that we believe is worth mentioning and will be constantly reminding you of it. We are open for all comments and suggestions. The important thing is that we do not relinquish a positive outlook and always leave room for "dreaming with open eyes". Our magazine hopes to make a modest contribution to this by creating a good atmosphere in word and picture.
Until our next issue, stay well and healthy!


IMPRESUM
Publisher:
Princip Pres Australia Pty Ltd
ACN: 159 811 971
ABN: 84 159 811 971
Director:
Jelena Sekulić
Editor:
Saša Janković
Editorial Office in Australia:
SERBIA – Australian Review
Princip Pres Australia Pty Ltd, 5 Germain Crt, Keilor Downs, VIC 3038, Australia.
Phone: (+61) 0466 879 539, 0466 918 738. E-mail: serbiarev@gmail.com
www.serbiarev.com
Editorial Board:
Mišo Vujović, Branislav Matić, Slobodanka Vladiv-Glover, Slobodan Bendjo, Jelena Sekulić & Saša Janković.
Contributors:
Jelena Sekulić, Saša Janković, Dragan Bosnić, Daša Marjanović, Jovan Vučković, Karlo Kubiček, Zoran Pejašinović, Luka Vesković,
Momo Kapor
, Dragana Bukumirović.
Photographs:
Dragan Bosnić, Goran Dojčinović, Jelena Sekulić, Saša Janković, Aleksandar Ćosić, Željko Sinobad.
Techical Editor:
Momčilo Maletić "MWD"
www.mwebsited.com
Translation:
Slobodanka Vladiv-Glover (Editor),
Sandra Gagić, Marko Ranđić.
Distribution:
Integrated Publication Solutions Pty Ltd
Printing:
LongPack Co. Ltd, www.longpack.com
Editorial Office in Serbia:
Princip Pres
Cetinjska 6, 11000 Beograd
Phone:
(+381) 11 322 7034, 322 1692
office@nacionalnarevija.com
www.nacionalnarevija.com
Director and Editor-in-Chief:
Mišo Vujović
SERBIA – Australian Review
is published in Australia by Princip Pres Australia Pty Ltd (ABN 84 159 811 971),
under licence from Princip Pres Serbia (Cetinjska 6, 11000 Belgrade). All rights reserved.
ARCHIVE
Stories from new issue
*List of stories in new issue.
marketing